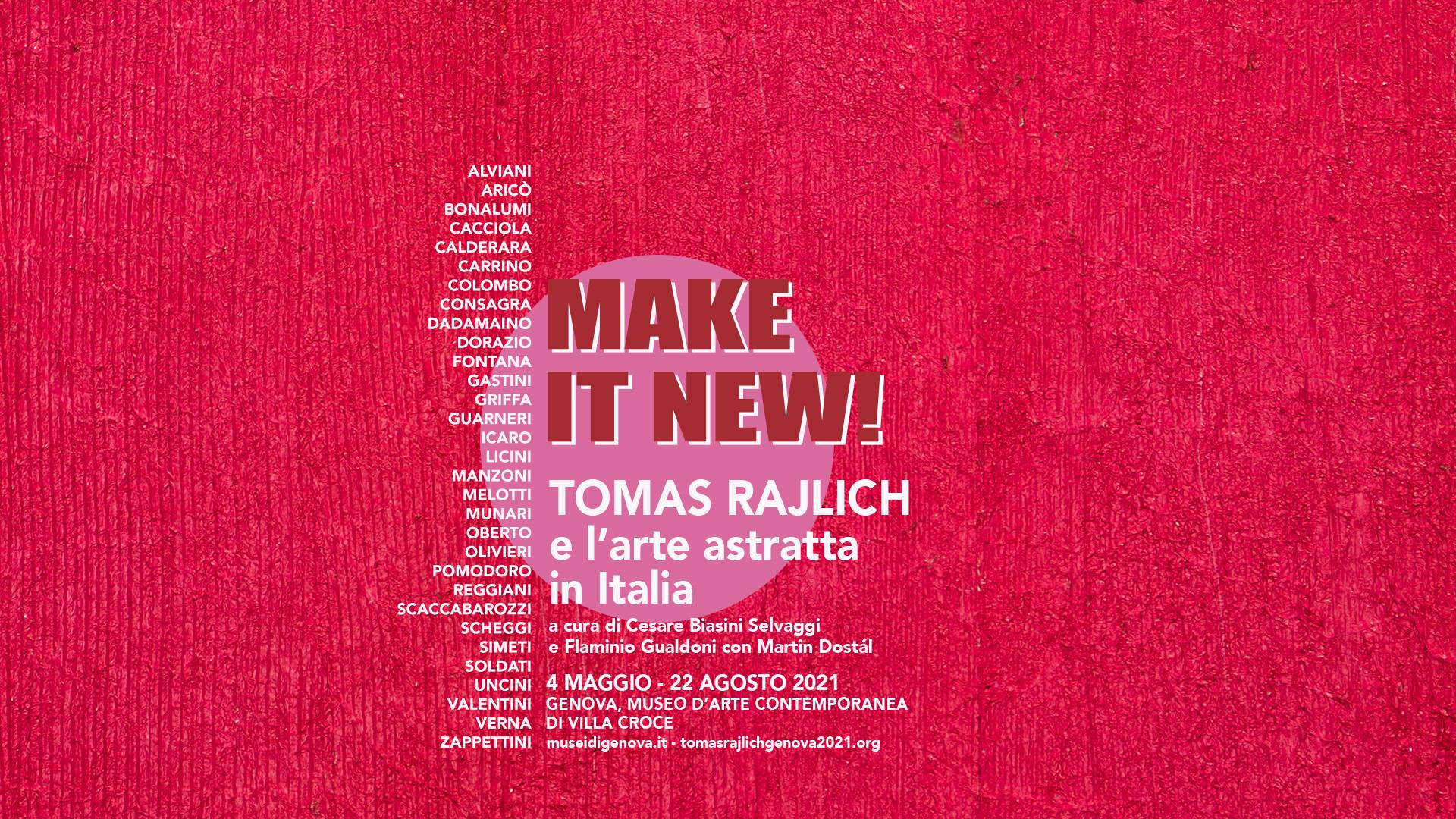 Tomas Rajlich e l'arte astratta in Italia
MAKE IT NEW !
Il Museo d'Arte Contemporanea di Villa Croce dedica un'ampia retrospettiva a un grande interprete internazionale dell'astrattismo (arte non oggettiva), l'artista ceco naturalizzato olandese Tomas Rajlich, in dialogo con alcune opere chiave della collezione museale (dall'astrattismo del secondo Dopoguerra alle ricerche percettiviste e preconcettuali degli anni Sessanta, fino all'arte Optical e alla Nuova Pittura - Pittura analitica - dagli anni Settanta e Ottanta).
La mostra, a cura di Cesare Biasini Selvaggi e Flaminio Gualdoni, accompagnata da un catalogo edito da Silvana Editoriale con contributo di Martin Dostál, presenta attraverso oltre ottanta opere una panoramica inedita del peculiare percorso artistico e della vitalità espressi dalla pittura aniconica.
La mostra è prodotta dal Comune di Genova e realizzata in collaborazione con ABC-ARTE, galleria d'arte contemporanea di Genova.
Il percorso espositivo delle opere di Tomas Rajlich, che documentano oltre mezzo secolo di ricerca, parte dagli esordi nella scultura degli ultimi anni Sessanta, per concludersi con i suoi lavori più recenti, con le loro variazioni sull'intensità, la luminosità e la consistenza della pittura stessa, attraverso sensibilissime texture di materia-colore.
________________________________________



The Museum of Contemporary Art Villa Croce is dedicating a large retrospective to a major international interpreter of abstract (non-figurative) art, the Czech-born, Dutch naturalised artist Tomas Rajlich, in dialogue with some key works from the museum collection, from the abstract art of the Second World War to the optical and preconceptual experiments of the 1960s, Op Art and the New Painting – Analytical Painting – of the 1970s and 1980s.
The exhibition is curated by Cesare Biasini Selvaggi and Flaminio Gualdoni and accompanied by a catalogue published by Silvana Editoriale with contributions by Martin Dostál. With more than eighty works, it presents an unparalleled panorama of the specific artistic trajectory and vitality expressed by aniconic painting.

The presentation of the works of Tomas Rajlich, which document more than half a century of inquiry, starts with the early experiments in sculpture from the late 1960s, and ends with his latest works, with their variations on the intensity, luminosity and consistency of painting itself by means of highly refined textures of material and colour.